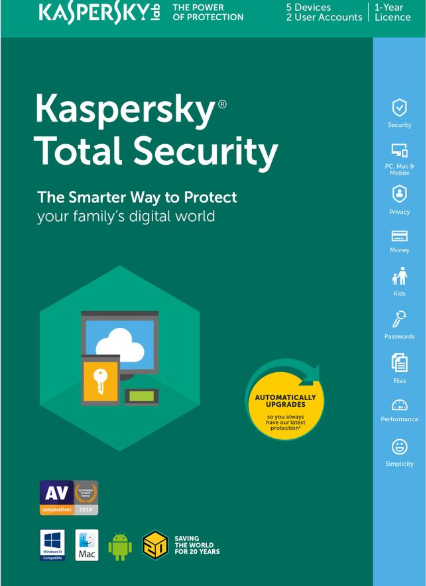 Kaspersky Total Security 2020 3 PC 1 Year Key North America
Platform:

Region:
Tags: Antivirus & Security
Stock:
Available for order
bestseller! Demand exceeds supply!We are replenishing our stock,We will send the keys to your email within 48 hours from your reservation.
Quantity:
Product Description
Kaspersky Total Security is an anti-virus suite fashioned for the modern user. It includes all the features one would expect from a renown data protection software while maintaining high performance of the computer. Users of Total Security package gain access to options such as scanning, updating virus database, safe finances, protection of personal data, and parental control.These options are more than enough to guard the computer against malware, phishing software and ransomware. Furthermore, they help to maintain control over what the kids see while browsing the Internet. Kaspersky Total Security does not only protect your computer but thanks to its multiplatform functionality, it spreads the defensive umbrella over other devices in your home, even those that do not run on Windows.
Antivirus & Privacy protection
Kaspersky Total Security is the state-of-the-art anti-virus program. After the installation, it will warn the user if their virus database is outdated and will update it if necessary. The program will scan the files, searching for any known viruses and malware and then report its findings to the user. The software also enables the options of either disinfect the encountered problematic files or simply delete them.Total Security users can also use the Private Browsing option which blocks data collection by the websites visited by the user. Private Browsing options are available for most of the web browsers, including Google Chrome, Mozilla Firefox and Microsoft Edge.
However, this feature is not compatible with newer versions of Internet Explorer for Windows 10.Another safety feature of Kaspersky Total Security is Data Encryption. Because of it the user will be able to protect valuable documents containing sensitive data from being stolen or from leaking into the Internet. Encrypted data will be stored in a special "vault", which the user can create from the Data Encryption tab. After choosing the files to be encrypted, the location of the vault and its name, as well as setting a password, users can rest assured that their files will be well guarded.
Parental Control & Password Manager
Every parent wants to protect his or her children from the bad side of the internet where they are preyed upon, extorted or otherwise hurt. Kaspersky Total Security reaches out to the parents concerned with the online well-being of their children by including the expanded Parental Control options.Users can customize the content of the web that the children will have access to as well as restrict the time they spend using the computer.
Total Security's Parental Control allows for setting on which days and for how long the children can use the computer, block access to games containing images unsuitable for the young ones such as blood and gore or nudity, as well as control the child's communication and data transfer.Kaspersky Total Security also includes a password manager option. By using it, one can create strong passwords and store them, safely encrypted in a vault. Password Manager also protects sensitive financial information, such as credit card data, license keys for software, information about bank accounts, etc.
Related Products:
*
Kaspersky Total Security 2019 1 PC 1 Year Key North America
*
Kaspersky Total Security 2019 5 PC 1 Year Key North America
*
Kaspersky Total Security 2019 10 PC 1 Year Key North America
* Kaspersky Total Security 2019 3 PC 18 Months Key North America

Always had quality products and fast shipping. Always order from Bzfuture
Write a Review
This product can't be purchased in your country. Please choose other products.
The programe has been failed submitted to the system
The programe has been successfully submitted to the system