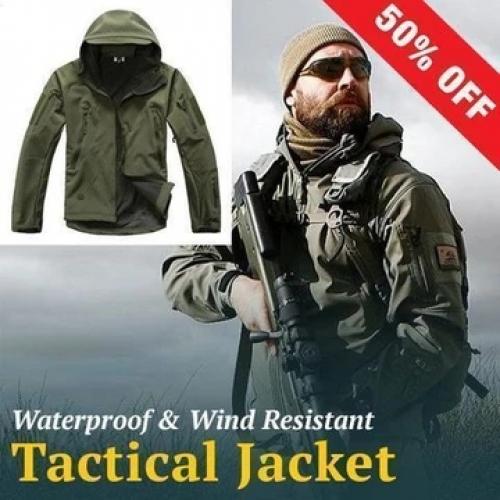 Outbound Weatherproof Tactical Jacket
Price:
EUR 115.99
EUR 58.00
-50%
Product Brand:
Product Category: general merchandise
Color:
Army Green
Black
Khaki
Gray
CP
ACU
Tree Camo
Green Camo
Green Snake Print
Black Snake Print
Shipping: Free shipping
Estimated Shipping Time:
25-40 business days
Cannot be shipped to: People's Republic of China.
Quantity:
Product Description
"This is a super high-quality jacket at an incredible price. Plenty of pockets and some very nice features. I love the shoulder velcro for my patches. It is definitely warmer than I expected, not just a thin shell. It's got a little bit of a liner to it, so maybe a little too warm for the California summer months. I will wear the heck out of this thing in spring and fall, though, and I'm sure it'll last me years based on the quality! Highly recommended!" ★★★★★
Travis Beatty - Sacramento, CA
This high quality waterproof and wind resistant tactical jacket is perfect for hunting, fishing, camping, hiking, camping, mountaineering and all other outdoor activities.

Tactical Jacket Specs:
Outer Shell Material: 94% Polyester, 6% Spandex; Lining Material: 100% Polyester
Top quality fabric and a functional design
Wind resistant and water-proof
Drawstring waist and hood, adjustable wrist cuffs.
Underarm zip vents
Large lumbar double access pocket
Roll up hood with two position tie down
Two concealed carry pockets inside
Before purchasing, please measure yourself using the size chart below
PLEASE ORDER A MINIMUM 1 SIZE LARGER THAN YOU WOULD NORMALLY WEAR, AS THEY RUN SMALL!

A good jacket for this price. Threads stick out, not critical, in general everything is smooth and good. Really repels water and quite warm. At 185/95 sat back to back, if you want more freedom, it is better to take XXXL
Write a Review
The programe has been failed submitted to the system
The programe has been successfully submitted to the system