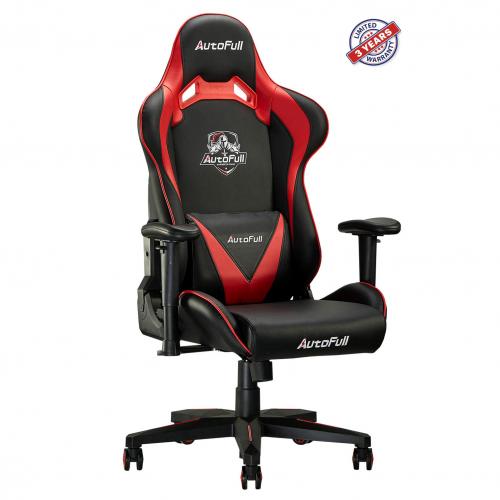 AutoFull AF063BPU Gaming Chair
Price:
EUR 320.00
EUR 189.00
-41%
Product Brand: AutoFull
Product Category: Gaming Chairs & Desks
Shipping: Free shipping
Estimated Shipping Time:
2-8 business days
The following countries are available to ship: Austria, Belgium, Bulgaria, Republic of Cyprus, Czech Republic, Denmark, Estonia, Finland, France, Germany, Greece, Hungary, Ireland, Italy, Latvia, Lithuania, Luxembourg, Malta, the Netherlands, Poland, Portugal, Romania, Slovakia, Slovenia, Spain, Sweden, the United Kingdom and the United States.
Quantity:
Product Description
AutoFull, TO FIGHT! TO WIN!
AutoFull, a worldwide well-known gaming chair brand, has been official sponsor to 28 international pro teams including RNG, NewBee, 4AM, 17 and more. We are also authorized official sponsor for International pro leagues including WCA,LPL, MDI, WCS, MDL and CSGO minor. AutoFull has been highly praised among worldwide pro teams in various top gaming pro leagues, and has won great popularity in the global market.

This chair is great overall after using for more than a month. It took me a while to assemble. Most parts are easy to put together but may need one other person help hold when turning the screw because the back and sitting part is fairly heavy and you may need to knock or push with a force to couple the units to make it firm.

A big win of this chair is its adjustability. The back and neck cushions provide sufficient support which makes you feel comfortable sitting for a few hours without any sores. The cushions are also optional and adjustable with an elastic band to fit with each individual.

One drawback I can come up with is that it could be a bit hot especially on your legs (may be sweat in an hour or so) I guess this is caused by the imporosity of PU leather. May consider twice if you are easy to sweat.
Write a Review
The programe has been failed submitted to the system
The programe has been successfully submitted to the system