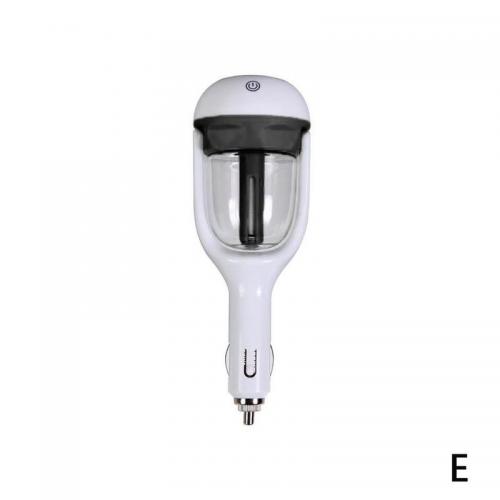 Bzfuture Car Air Freshener Car Steam Air Aroma Diffuser Humidifier Purifier Mist Air Maker Fogger Diffuser
Product Brand: Bzfuture
Product Category: Automotive Accessories
Shipping: Free shipping
Estimated Shipping Time:
25-40 business days
Cannot be shipped to: People's Republic of China.
Quantity:
Product Description
DESCRIPTION:
Breathe easier and more comfortably with this ultrasonic humidifier that uses a cool mist to increase the amount of moisture in the air.
FEATURE:
Auto-off after working 2 hours.
Eliminate bad smell; increase the humidity of the air.
Help you breathe better and more comfortably.
Mini size and convenient to use.
Large 50mL water tank eliminates the hassle of constant refill.
Note:
1, This product can be used only when the car engine is started;
2, Please do not use the humidifier when there is no enough water in the tank;
3, Keep out of reach of children;
4, When disconnect it with car when no need to use it, and store it in somewhere dry and cool.
5, Water-soluble essential oil is preferable, please do not use greasy aroma oils.
SPECIFICATIONS:
Tank Capacity: 0.013 Gallons/50ml
Working Current: 130 mah-150 mah
Rated power: 1.5W -2 W
Amount of water spray mist: 25ml/hr
Working time: 2 hours
Working temperatures: 10-40 degree centigrade (50℉-104℉)
INSTRUCTIONS:
Operation guide:
1. Take the container out, and add 50ml water into the container.
2. Connect the humidifier with your car, red light is on.
3. Wait 1-2 mins until the water has been fully absorbed by the sponge stick.
4. Press the touch key one time, the humidifier is in working mode.
5, Press the touch key the second time, the humidifier is in essential oils mode (essential oils should be added).
6, Press the touch key the third time, the humidifier will stop working.
Kindly Note:
This product must be used when the engine of the car is started;
The product is forbidden to use in the absence of water;
The suitable temperature for use is 0-45 ° C;
Children are forbidden to touch products;
When the product is not in use, pull out the plug in time, pour out all the water and place it in a dry place.
It is forbidden to put hot water into the bottle. You can drop one or two drops of essential oil in the water. It is forbidden to put only essential oil.
Just support 12V interface, truck (24V) can not be used
Material: ABS
Color: green, purple, blue, pink, black
Dimension (L x W x H): 16.5*6cm
PACKAGE INCLUDE:
1 x Humidifier
1 x User Manual
Be the FIRST to Write a Review! Give away surprise gift to one lucky user in the reviews per week.
Write a Review
The programe has been failed submitted to the system
The programe has been successfully submitted to the system