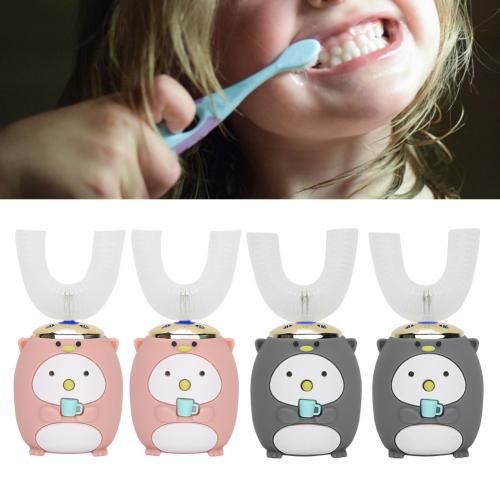 Bzfuture Children Electric Sound Waves Toothbrush
Product Brand: Bzfuture
Product Category: Cleaning
Color:
2-6 Ages(Gray)
6-14 Ages(Gray)
2-6 Ages(Pink)
6-14 Ages(Pink)
Shipping: Free shipping
Estimated Shipping Time:
25-40 business days
Cannot be shipped to: People's Republic of China.
Quantity:
Product Description
Feature:
1. Smart 60 seconds to automatically complete brushing and shutdown.
2. All‑round waterproof and sealed design, waterproof, convenient, durable and clean.
3. Multi‑position switching, vibration frequency intimately adapts to children's sensitive young teeth.
4. Special toothbrush design, using food‑grade materials, 360‑degree contact with gums and teeth.
5. Fit the teeth without dead corners, fit the teeth in all directions and take care of every small baby tooth of the child.
Specification:
Condition: 100% Brand New
Item Type: Electric Toothbrush
Optional Color: Pink, gray
Material: ABS, silicone
Optional Age: 2-6 years old, 6-14 years old (if the toothbrush head is too large, you can trim part of it properly)
Charging Method: DC round charging type
Charging Time: Approx. 90 minutes
Rated Voltage: 3.7V
Working Temperature: 0-50℃ / 32-122℉
Battery Properties: for Lithium battery
Battery Capacity: 500mAh
Overall Material: ABS body can be washed, non-slip silicone sleeve

Product Model:
1. One-stage massage mode (8000 times per minute, massage the gums and care for the gums)
2. Two-speed gentle mode (11000 times per minute, suitable for 6-year-old baby changing teeth)
3. Three-level cleaning mode (16000 times per minute, suitable for 7-9-year-old babies, cleaning teeth revealing white teeth)
4. Four-speed gingival protection mode (23000 times per minute, suitable for children aged 9-11, enhance cleaning and refuse tooth decay)
5. Five levels of deep mode (31000 times per minute, suitable for children 11-14, deep cleansing, care of the tooth surface)

Features:
1. Liquid silicone brush head, full surrounding teeth
2.60 seconds timed Pap scientific dental cleaning
3. IPX7 grade waterproof, can be used when bathing
4. Blue light protects gums, brightens and cleans teeth
5. Smart chip, five-speed brushing mode
Package List:
1 x Toothbrush Host
1 x Toothbrush Head
1 x USB Data Cable
Be the FIRST to Write a Review! Give away surprise gift to one lucky user in the reviews per week.
Write a Review
The programe has been failed submitted to the system
The programe has been successfully submitted to the system