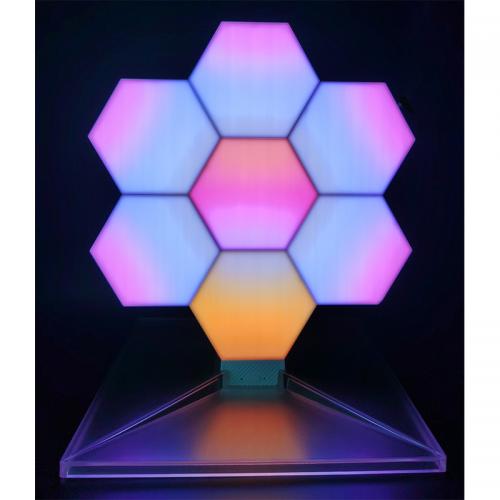 LifeSmart Cololight Plus LS167 LED Quantum Light Panels - 7set
Price:
USD 130.13
USD 106.47
-18%
Product Brand: Lifesmart
Product Category: Smart Lights
Type:
Cololight Plus LS167 7SET
Shipping Method: Normal ShippingUSD 5.92
Priority Line ShippingUSD 11.83
Estimated Shipping Time:
Processing time:1-3 business days
Shipping time:7-20 business days
Cannot be shipped to: People's Republic of China.
Quantity:
Product Description
Description:
Cololight can be spliced into different shapes to meet your imagination. The shape of the hexagonal unit can be expanded infinitely. Suitable for both adults and children. Through the unit lights, controllers and connectors, an unlimited number of Cololights can be placed for different shapes and colors.
Specification:
Name: Cololight PLUS KIT
Model Content:Homekit main controller, Cololight, Connector, Fixator, Base
Module Size Led module:86*74.5*30.5mm
Homekit controller:46.5*30.5*28mm
Fixator:16.5*17.5*9mm
Connector:23.1*17.5*9mm Weight
Led module:52.5g
Homekit controller:54g Fixator:2g
Connector:2.6g
Base Material:ABS
Led Color: 16 Million color
Operating Temperature: -5~45℃
Operating Humidity: 5~90%
Power Supply: DC 5V 2A
Power Consumption: 0.3W at lowest, max. <5W
Radio Protocol: only supports Wi-Fi 2.4GHz, 5GHz WiFi is not supported.

Features: APP control, touch button control, bluetooth pairing, timer function, group control, play library for multiple effects.

Lifesmart quantum light is an intelligent lighting product that supports random splicing of shapes and color change at will.
Write a Review
The programe has been failed submitted to the system
The programe has been successfully submitted to the system