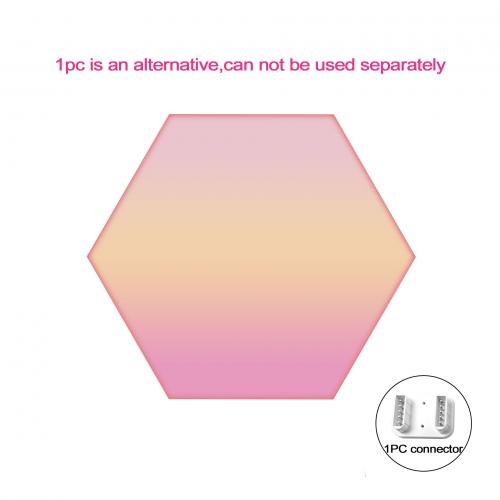 Lifesmart Cololight Model L LS161
Product Brand: Lifesmart
Product Category: Smart Lights
Shipping: Free shipping
Estimated Shipping Time:
25-40 business days
Cannot be shipped to: People's Republic of China.
Quantity:
Product Description
Smart Quantum Light is a kind of atmosphere lamp that supports random splicing of shapes and arbitrary changes of colors. Quantum energy is a life light to interact with people, traditional lamp cannot bring such creative ways to play. It can be placed on the desktop or used as background wall, ceiling and other decorations. With its functions such as audio discoloration and voice control, quantum lamp gives the lighting system a new intelligent way to play and provides diversified experience for living scenes such as dining and home.
Main Features:
•6-side Design
Unique geometric shape design, not only lighting but also decorating your house.
•Free DIY Assembling
Each side can be sliced easily with your creative ideas, can be grouped into thousands of different models
•High-quality material
Using high-quality ABS and PC lampshade material makes uniform light, translucent strong.
• Energy saving and environmental protection without flash
•Smart Control Function
Voice control, intelligent linkage, APP control, mode switching, dynamic gradient, brightness adjustment, remote control
•Widely application
It can be placed in the living room, bedrooms, study rooms, dining rooms, hotels, etc.
APP Download Method:
Search " LifeSmart" APP, or download the QR code or search " LifeSmart" APP on the package and have instructions on the box
Parameter:
Type of light source: LED
The length of the USB cable: 1m
Voltage: 5V
Note:
The single quantum lamp does not have a base and USB controller cable.
One USB can connect at least 30 pieces of light.
Tips: One is an alternative, can not be used separately, you need to buy it with 3 groups and packs to use.

Specification
General
Material: ABS,PC

Dimensions and Weight:
Product weight: 0.0900 kg
Package weight: 0.1000 kg
Product size (L x W x H): 8.60 x 7.45 x 3.05 cm / 3.39 x 2.93 x 1.2 inches
Package size (L x W x H): 10.00 x 9.00 x 7.00 cm / 3.94 x 3.54 x 2.76 inches
Package Contents: 1 x Geometry Assembly Light, 1 x Connector

My friends are more willing to play games with me under the lights on, it create a good gaming atmosphere.
Write a Review
The programe has been failed submitted to the system
The programe has been successfully submitted to the system