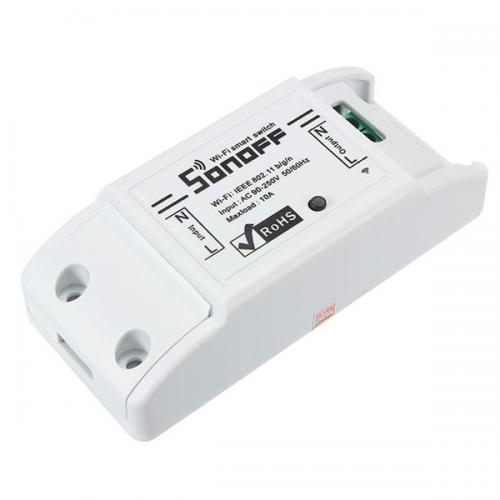 Sonoff Basic R2 10A Wifi Smart Switch Remote Wireless Light Power Switch
Product Brand: Sonoff
Product Category: Electronic Accessories & Gadgets
Quantity:
3pcs
5pcs
10pcs
Shipping: Free shipping
Estimated Shipping Time:
25-40 business days
Cannot be shipped to: People's Republic of China.
Quantity:
Product Description
Sonoff Basic 10A Wifi Smart Switch Remote Wireless Light Power Switch Intelligent Universal DIY Wifi Switch Work With Alexa
Product Overview:
Home automation is "The Internet of Things".
It simply means the way all devices or appliances are networked together to provide users with a seamless control over their home equipment.
Sonoff Basic is an affordable WiFi smart switch that provides users with smart home control.
It is a remote control power switch that can connect to a wide range of appliances.
Sonoff Basic WiFi electrical switch transmits data to a cloud platform through the WiFi Router, which enables users to remotely control all the connected appliances, via the mobile application eWeLink. The server is Amazon AWS global server.
Sonoff WiFi controlled switch makes all home appliances smart.
As long as the mobile phone has network(2G/3G/4G/WiFi), users can remotely control the appliances by turning them on off from anywhere at any time.
Another feature available is to set timers for the appliances, which can include countdown/scheduled/loop timers, and can thus, help users maintain an easy life.
The mobile application eWeLink enables users to control the appliances easily.
The iOS version of the application can be downloaded in App Store while the Android version in Google Play.
Product Advantage:
Remote ON/OFF – Turn electrical devices on/off from anywhere
App Support – Free iOS and Android mobile App eWeLink
Sync Status – Real-time device status provided to App
Timing – Set scheduled/countdown/loop timers to turn on/off at specified time
Share Control – Control your smart home together with your family
Scene – Turn on/off a gang of devices with one tap
Smart Scene – Triggered on/off by temperature, humidity or other environmental conditions(Need Works With TH10 or TH16)
Voice Control – Works perfectly with Amazon Alexa, Google Home
Note: this
WiFi switch does NOT have 433Mhz RF remote capability. If you want RF function, please buy
Sonoff RF
.
Works With Amazon Alexa:
This product works with Amazon Alexa. You can ask Alexa to control the device with the following voice commands. Please note that only US/UK English and German voice commands are supported now.
Try out these phrases ( {deviceName} should be the name of your device):
Alexa, turn on {deviceName}
Alexa, turn off {deviceName}
Alexa, turn {deviceName} off
Alexa, turn {deviceName} on
Alexa, schalte Gerätename ein
Alexa, schalte Gerätename aus
Product Features:
Supports WiFi network.
Supports status tracking: device status timely provided to the EWeLink.
Supports remotely turn on or off connected appliance/light.
Supports max 8 enabled scheduled/countdown/loop timers for each device.
Supports numerous WiFi smart switches on one smart phone.
Works with Amazon Echo, Echo Dot, Amazon Tap
Works with Google Home
Works with Google Nest
Product Specification:
Voltage range: 90-250v AC(50/60Hz)
Max current: 10A
Max Wattage: 2200 watts
Dimensions: 88*38*23mm (L*W*H)
Color: White
Humidity: 5%-90%RH, Non-condensing
Frequency: 2.4Ghz
Operating Temperature: 0ºC-40ºC(32°F-104°F)

The programe has been failed submitted to the system
The programe has been successfully submitted to the system