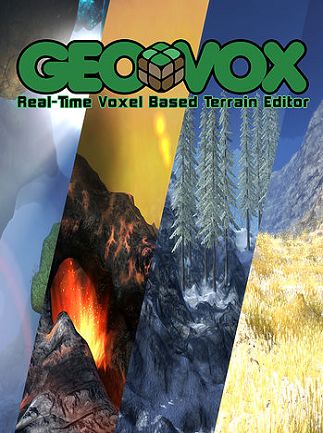 GeoVox Steam CD Key Global
Platform:


Region:
Tags: Software
Stock: In Stock
Quantity:
Product Description
GeoVox is the latest real time world generation software application created by Axis Game Factory, Inc. GeoVox is a completely new stand-alone Voxel based real-time terrain creation tool.
GeoVox instantly creates lush AAA quality environments at the start of the application. Designed with intuitive game like controls it allows users to test for level playability as they are creating.
Key features
Instant environment is generated at application start
Simple tools that allow users to edit the environment as needed without a steep learning curve
Clean, low overhead GUI that allows for fast terrain editing, without limiting users creativity
Standard game controls to allow users to explore their environment to simulate gameplay
Flying Camera or FPS style with gravity and jump ability camera modes
Full real-time Voxel based terrain editing
Easily edit the terrain with simple point and click volume brushes
Define Voxel brush sizes and shape
Single click and click and drag on Voxel application
Offset Voxel brush from center or base
Brush snapping
Add Voxel volumes
Cut Voxel volumes
Paint Voxel volumes
User definable smoothing
Cut volumes and Paint textures and apply environmental assets simultaneously
Create a pallet of Voxel types to be used in your environment
Voxel types can include textures, assets and vegetation
Mix and match variables to create many Voxel types
Voxel types can be applied upright or aligned to terrain normal
Assets can have user defined depth off-sets
Fully featured fractal algorithmic terrain generator
This product can't be purchased in your country. Please choose other products.
The programe has been failed submitted to the system
The programe has been successfully submitted to the system