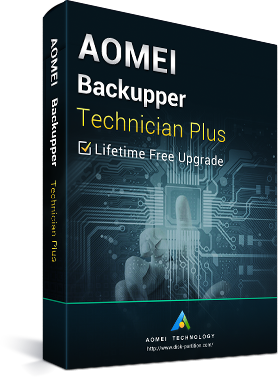 AOMEI Backupper Technician Plus + Lifetime Free Upgrades Key Global
Price:
EUR 899.00
EUR 600.27
-33%
Platform:

Region:
Tags: Software Office Software
Stock: In Stock
Quantity:
Product Description
The most professional Windows data backup & recovery software that allows you to protect data in unlimited PCs and Server within one company as well as provides profitable technical support to enterprise and individuals.
AB Technician Plus + Lifetime Free Upgrades
AOMEI Backupper (AB) Technician Plus, especially designed for IT professional, system administrator, technician and consultant to provide profitable technical service to client's PCs and servers with unlimited usage, is a valuable, cost-effective and independent backup & disaster recovery toolkit. Also, it can be used for internal environment to protect large distributed groups of PCs and servers in multiple locations.
It covers all the features of AOMEI Backupper. The only restriction is that one license code is contracted to a single technician or administrator but not to a machine when using it to provide external paid technical service.
Support Windows Server 2000/2003/2008 (R2)/2012 (R2), Windows SBS 2003/2008/2011, WHS 2011, and Windows 10/8.1/8/7/Vista/XP (all editions, 32/64-bit).
"Lifetime Free Upgrades" is a maintenance agreement which enables you to FREE get every version of the software that comes out after you buy. No need to pay an additional fee for later upgrades.
AOMEI Backupper Technician Plus Advantages
As the highest edition, AOMEI Backupper Technician contains all the features and utilities of others. Besides, you can get top priority yet lifetime free technical support. It supports to offer charged technical service to unlimited companies and individuals as well as supports to install on unlimited computers within one company even in multiple locations.
Complete Features
Cover all features of AOMEI Backupper Server, including backup, restoration, universal restore, clone, PXE boot tool and all other utilities.
Profitable Toolkit
Allow you to provide charged technical service to your clients, and one license code can be used to register the program on unlimited computers within one company.
AOMEI Backupper Technician Enterprise Plus - The Easiest Backup and Disaster Recovery Solution for Servers
Ensure Business Continuity - back up everything automatically or manually before system fails.
Minimize Server Downtime - selective restoration and WINPE bootable recovery environment.
Disk Storage Management - automatically clean up, and incremental & differential backups.
Universal Restore - restore backup images to dissimilar hardware with ease.
All Windows OS Platform - support Windows Server 2003, 2008, 2012 (including R2), SBS 2003, 2008, 2011 and Windows PC systems.
FUTURES:
Backup - easily protect your server all the time, both system and data
System Backup Schedule Backup Disk Backup
Partition Backup: Backup specialized partitions that store your import information in case of disk failure.
Files Backup: Specify which files or folders to backup, supporting to customize folders backup with filters.
File Sync: Synchronize files and folders automatically with a schedule to keep data up-to-date.
Incremental & Differential Backups: Only back up data that changes made to save time and disk space.
Command Line Backup: Create backups from command prompt or batch scripts for unattended and multi-processing tasks.
Backup Disk Space Management: Automatically delete the old backup images based on specified value.
Hot Backup: A technology enables to take a backup without interrupting or shutting down Windows and other running applications.
Where can you store your backup images?
You can save the image files on:
* Local disk
* External hard
* Drive/removable hard drive
* USB flash drive,
* PenDrive,
* ThumbDrive,
* SanDisk, etc.
* CD/DVD/Disc
* NAS/network, etc.
Restore back everything you ever backed up in minutes
System Restore Disk Restore Universal Restore
Partition Restore: Partition recovery helps you rebuild partitions crashed due to wrong operations, etc.
File Restore: Restore backed-up versions of files & folders which are lost, damaged, or changed accidentally.
Command Line Restore: Perform system restore, disk restore, universal restore and more from command prompt.
Selective File Restore: Just recover individual files that you need without restoring the entire image.
Automatic Partition Alignment Restore: Optimize the performance of storage, especially for SSD after restoration.
Bootable Recovery Environment: Recover servers whose system crash or damaged based on Windows PE.
Clone - create an exact duplication of your system, partition and hard disk
Disk Clone System Clone Partition Clone
Command Line Clone: Perform system clone, disk clone, partition clone from command prompt.
Clone with Resizing: Adjust the size of partitions to fit the new destination location while cloning.
Automatic Partition Alignment Clone: Optimize the performance of storage, especially for SSD after clone.
Sector by Sector Clone: Clone all sectors (both used sectors and unused sectors) to destination disk.
Hot Clone: A technology enables to clone system/disk without interrupting or shutting down Windows and other running applications.
Utilities-for better data protection and disaster
recovery management
PXE Boot Tool: Start up multiple client machines within LAN through the network booting.
Create Bootable Media: Make Windows PE & Linux bootable CD/DVD or USB flash drive.
Explore Image: Mount image as a virtual partition to browse the contents in Windows Explorer.
Compress Backup: Set compression level to increase backup efficiency or reduce storage space.
Encrypt Backup: Protect image file from unauthorized access with a password.
Split Backup: Divide a large image file into multiple smaller ones, or split to fit for fixed length media.
Check Image: Verify data integrity of image file to ensure it can be restored successfully.
Comment Backup: Add a comment for backup image so that it can be identified easily.
Merge Images: Combine full backup and its chained incremental backups into a single backup.
Notifications: Send backup completion status to your email with AOMEI or your own SMTP server.
Edit Backup: Edit task name and change the saved directory of backup images.
View Logs: View what operations the program has done and record the events that occur during a backup.
Export/Import Tasks: Export or import all backup tasks in an XML file.
Intelligent Sector: Choose to only backup used sector or backup all sector whether used or not.
VSS: Integrate with Microsoft Volume Snapshot Service to back up files that are in use.
AOMEI Backupper Technician Enterprise Plus Requirements
Operating Systems
Windows Server 2012 (R2) / 2008 (R2) / 2003
Windows SBS 2003 / 2008 / 2011
Windows 10 / 8.1 / 8 / 7 / Vista / XP
All editions, both 32 & 64 bit
File Systems
NTFS
FAT32/FAT16
exFAT/ReFS *
Ext2/Ext3/Ext4 *
Other file systems *
* Display as RAW partition and perform a sector-by-sector backup mode.
Storage Devices
All devices recognized by Windows, such as IDE, SATA, iSCSI, SCSI disk, IEEE1394 (Firewire).
Traditional hard disk drive (HDD), solid-state drives (SSD) and SSHD.
External hard drives (USB 1.0/2.0/3.0), PC card, All removable flash drives and thumb drives.
Backup data to disc, such as CD-R/RW, DVD-R/RW, DVD+R/RW, BD-R.
Hardware RAID, including RAID 0, RAID 1, RAID 5, RAID 10, etc.
Network-Attached Storage (NAS) and Shared Network.
Hyper-V, Virtual box, VMware virtual disk and other virtual systems.
Supported Disk Styles and Types
Master Boot Record (MBR) Disk
GUID Partition Table (GPT) Disk
Compatible with GPT/UEFI Boot
Compatible with Dynamic Disk Volumes

Reliable and Cost-effective Data Backup & Disaster Recovery Toolkit for Technician and MSPs
Write a Review
This product can't be purchased in your country. Please choose other products.
The programe has been failed submitted to the system
The programe has been successfully submitted to the system